RTC Stocking Stuffers
Santa's not the only who knows how to stuff a stocking! Here at Rhéo Thompson Candies we've spent the last 50 years making your favourite treats and it just so happens they fit perfectly into a Christmas stocking. 
So to make your holiday shopping that much easier, we've compiled a quick list of the best stocking stuffers to grab from our RTC online store. There are always a few gifts that are only available at our Stratford store so make time to stop by and see our winter wonderland!

Single serving of gourmet hot chocolate and a chocolate spoon for mixing.
$3.40 (+HST)

Our famous milk chocolate molded into the shape of Santa's face. Perfect for snacking on the go!
$2.25 (+HST)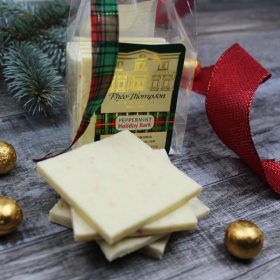 Our Holiday Bark showcases the decadent flavours of the creamiest white chocolate and finest hand-made hard candy. You'll be amazed how we've captured the holiday experience – complete with red and green sparkle.
$10.75 (+HST)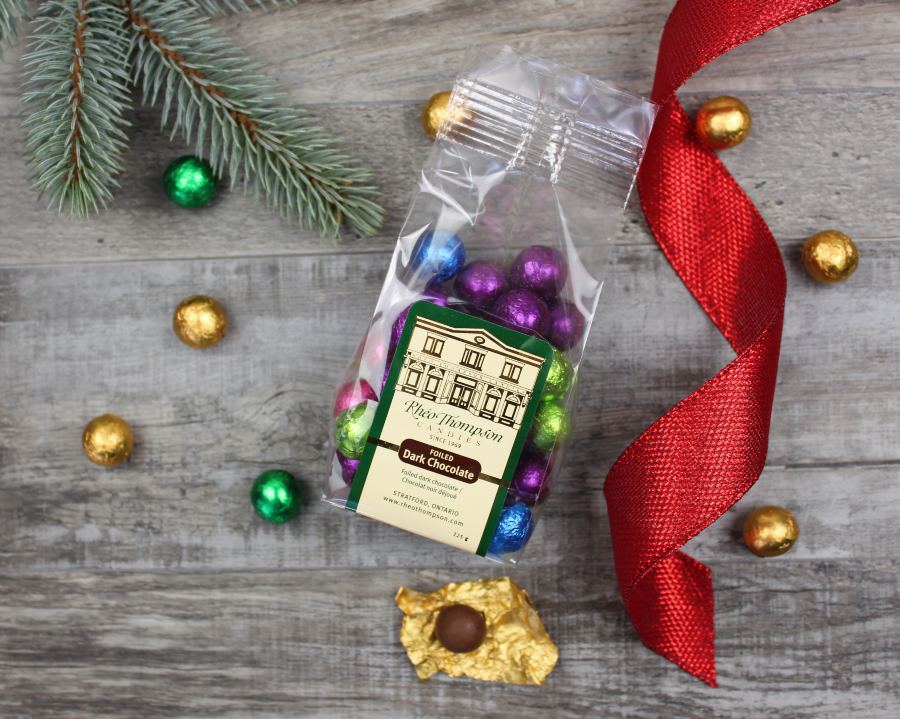 Our signature dark chocolate balls wrapped in various festive foil colours. Perfect for a Christmas stocking stuffer or a wonderful hostess gift.
$10.95 (+HST)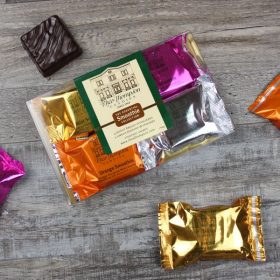 Essential is right! One of each of our Smoothie Bars – Milk Chocolate Mint, Milk Chocolate Orange, Milk Chocolate Raspberry and Dark Chocolate Mint – in one convenient package. Each bar is 49g.
$8.95 (+HST)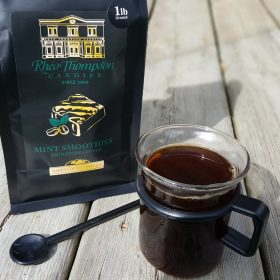 The one-of-a-kind flavour of our decadent Mint Smoothies® combines perfectly in this rich coffee blend to give you a sweeter start to your day. In partnership with the Baden Coffee Company, bags of grounds roasted from sustainably produced coffee are available by the pound.
$5.25 – $17.95 (+HST)
The perfect stocking stuffer always comes with a sweet treat and something fun and the Mini Nail File Kit does just that! Choose from a variety of Christmas characters on your adorable mini nail file kit which comes in a matchbook-style selection of mini nail files along with a Milk Mint Smoothie® Bar.
$4.95 (+HST)
What happens when you take our classic milk chocolate and press it into bite-sized Santas? A very merry time! Each chocolate Santa isfoil-wrapped so each treat is like a little gift.
$10.95 (+HST)
They may start small, but these Christmas Growers make a big impact! In your Christmas Growers Kit, you'll choose from 4 classic Christmas characters – Santa, Reindeer, Penguin, Snowman – who grow four times in size when you add water! In addition. You'll also get some snacks to enjoy while your character grows, including a Mint Smoothie® Bar and four foil-wrapped milk chocolate Santas.
$9.95 (+HST)
This rich treat of milk chocolate coins in a clear treasure chest means you'll strike gold with this gift! The RTC logo is carefully pressed into these edible coins which are finished with a gold foil wrapping. It is the kind of currency we love to tender!
$8.95 (+HST)