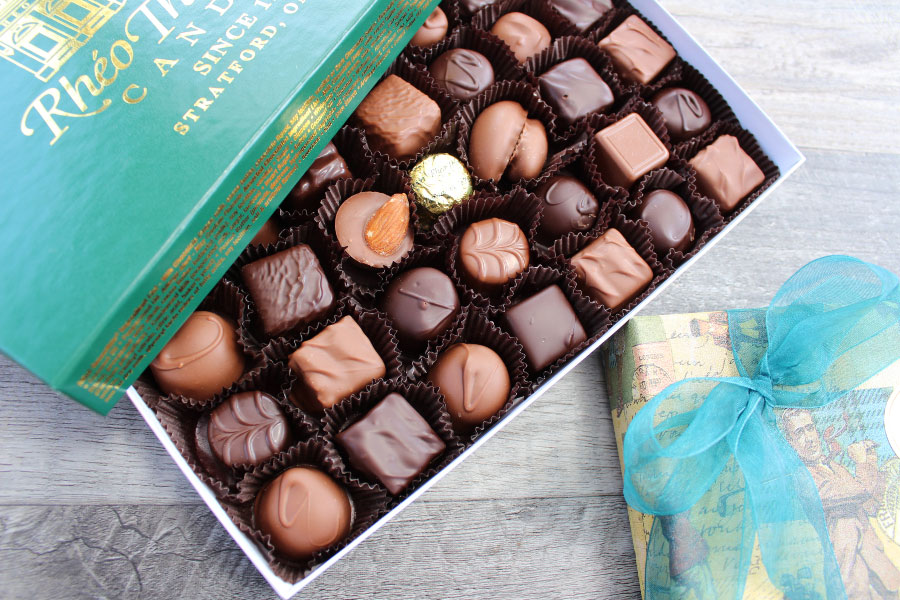 For your convenience, Rhéo Thompson Candies are sold at the following retailers located across southwestern Ontario:
Anything Grows Seed Co.
anythinggrows.com
The Market at Western Fair District
316 Rectory St,
London, ON
(519) 949-1200
Mint Smoothies® only
Baden Coffee Company
badencoffee.ca
1427 Gingerich Rd,
Baden, ON
(519) 634-5807
Mint Smoothies® only
Dana Shortt Gourmet
danashortt.ca
55 Erb St. E
Waterloo, On.
(519) 880-1555
Wide selection

Feather Your Nest
featheryournest.ca
138 Front St. North
Sarnia, On.
(519) 336-1617 or (888) 635-9898
Boxed chocolate selection
Forest of Flowers
forestofflowersstratford.com
48 Wellington St, 
Stratford, ON
(519) 273-7703
Mint Smoothies® only
Herrle's Country Farm Market
herrles.com
1253 Erb's Rd St Agatha, ON N0B 2L0
(519)-885-7576
Nutty Pop only
Pharmasave Clinton
pharmasave.com/clinton/
46 King St. Clinton, On.
(519) 482-5037
Remark Fresh Market London
remarkfreshmarkets.com
119 Oxford St. (at Hyde Park) London, On.
(519) 474-2561
Wide selection
Rexall – Pharma Plus – Reick Pharmacy
67 Kingston St.
Goderich, On.
(519) 524-2195
Wide selection
Sinclair Pharmacy
sinclairpharmacy.ca
12 Wellington St.
Stratford, On.
(519) 271-8940
Wide selection
Stratford General Hospital Gift Shop
46 General Hospital Dr. Stratford, ON 
(519)-272-8210
Wide selection
Tree Tops Gift Shop
treetopsgiftshop.ca
142 Fullarton St. (Main level of the Talbot Centre)
London, On.
(519) 439-7415
Tavistock IDA
17 Woodstock St. South. Tavistock, On.
(519) 655-2111
Wide selection
Xclusive Elements
xclusiveelements.com
11 Bayfield Main St N, Bayfield, ON
(519) 565-2610
If you want to reach our main store please click here.