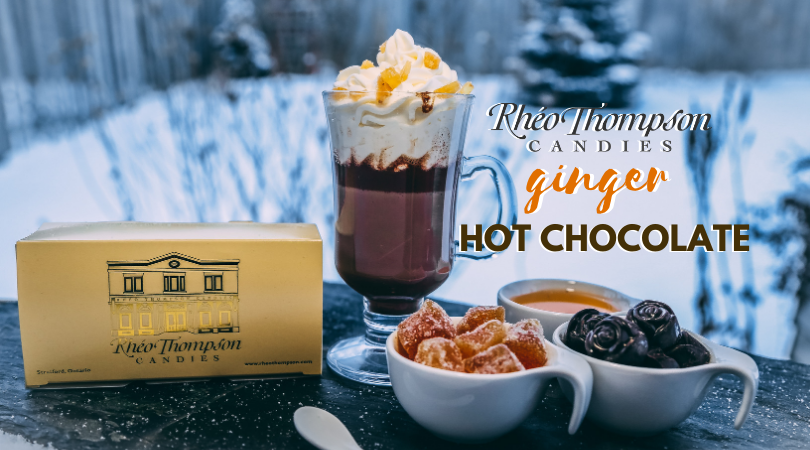 Nothing beats the winter blues better than a body warming, toe tingling and zippy mug of hot chocolate. We've crafted the perfect combination of Rheo Thompson Candies dark chocolate spiced with our sweet Ginger syrup and topped with a rich whipped cream and chunks of our Candied Ginger. This recipe definitely takes hot chocolate to the next level!
If you would like a vegan version of this hot chocolate, swap the milk for an alternative like coconut milk or almond milk, change the whipped cream to a vegan version (here is a great recipe for Coconut Whipped Cream – yum!) and our dark chocolate contains no dairy.
PREP TIME: 10 minutes
SERVES: 2
RECIPE
INGREDIENTS
½ c finely chopped Rhéo Thompson Candies Dark Chocolate Buds (about 8 buds)
1 ½ c milk (you can substitute equal amounts of almond or coconut milk for a vegan version)
1 tsp Rhéo Thompson Candies Ginger Syrup
1 tsp pure vanilla extract
Pinch sea salt
2 to 3 finely chopped Rhéo Thompson Candies Sugared Ginger pieces
STEPS
1. Finely chop Dark Chocolate Buds and place into a heat proof bowl.
2. Heat milk just until it begins to simmer and remove before it comes to a boil.
3. Carefully pour milk over the chocolate and whisk until chocolate has melted.
4. Add Ginger Syrup, vanilla extract and salt. Mix. If you really enjoy ginger, add extra syrup for more of a kick!
5. Slice 1 piece of Candied Ginger and rub along the rim of the glass.
6. Slowly pour your hot chocolate into your glasses.
7. Top with whipped cream, chopped Candied Ginger and grated dark chocolate.
FEATURED CANDY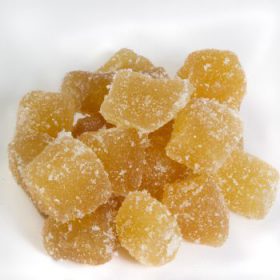 $5.75 for 125g
$10.75 for 225g
If you make this recipe, be sure to tag #rheothompsoncandies and #sweettalk.